BAD Favorites: 5 Soap and Glory Skincare Picks!
2022, Active Ingredients, Anti-ageing, Antioxidant, Beauty, Beauty Guru, blog, Bloggers, Body Drip, bronze, bronzer, Curling, Curls, Drunk Elephant, Dry shampoo, Eye Looks, Eyeliner, Eyeshadow, Fashion, Fermented Ingredients, glow, Glow Recipe, Hair, Haircare, Hairstyle, Heating Tools, Huda Beauty, Influencers, K-Beauty, Korean Beauty, Korean Skincare, Makeup Looks, Nail, Nail Color, Nail Polish, Nail Varnish, Palette, Serum, Serum Kit, Siren Eye, Skin, Skincare, The Ordinary, tigi, Trending, Vitamin A

30 Oct, 2022
All the favorite products from this much-hyped brand, are reviewed just for you! Shop all these goodies straight from our website at www.brandsatdoor.com 
Soap and Glory The Righteous Butter Body Lotion 
One thing I love about this is how quickly it absorbs into my skin, leaving it feeling supple as ever, the hydration this product provides is great owing to a combination of shea and cocoa butter. Moreover, the ingredients, both shea butter and cocoa butter contain nutrients that help to heal and regenerate skin.
Shea butter is a natural source of vitamin A, which helps to firm the skin. Cocoa butter contains polyphenols, which have been shown to improve skin health by increasing skin's elasticity and hydration. A must-buy if you're looking for a great body butter!
Soap and Glory Hand Food Hand Cream
Don't worry! This hand cream isn't like the typical one which will make your hands greasy and icky instead it'll make them super moisturized without the greasiness, Soap and Glory Hand Food include shea butter, sweet almond oil, and macadamia seed oil. All of these ingredients function as emollients to soften and moisturize hands. 
Soap and Glory Smoothie Star Breakfast Scrub

A body exfoliator that utilizes physical exfoliants like ocean salt and sugar to clean away dead skin cells, which helps with lighting up and smoothing of skin.
Soap and Glory Sexy Mother Pucker Lip Plumping Gloss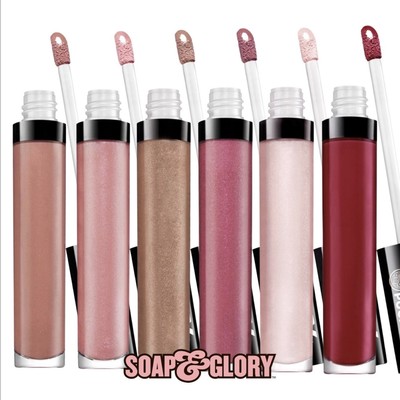 Once this best-seller gloss is applied you'll see a slight tingling sensation followed by a slight plumping impact following a couple of moments. A key ingredient that is present in this formulation is the LIPSWELL Natural Plant Oil Infusion, which helps in creating the plump effect!
Soap and Glory Puffy Eye Attack Eye Cream
Get your hands on this eye cream specifically formulated to reduce puffiness! Soap and Glory's Puffy Eye Attack contains caffeine along with many more contents which help in actively combatting puffy eyes. You'll get the hydrating and soothing benefits of cucumber thanks to the inclusion of cucumber fruit extract in this eye cream. In addition to this, there's soothing botanicals in the formula, such as ginseng and aloe vera.