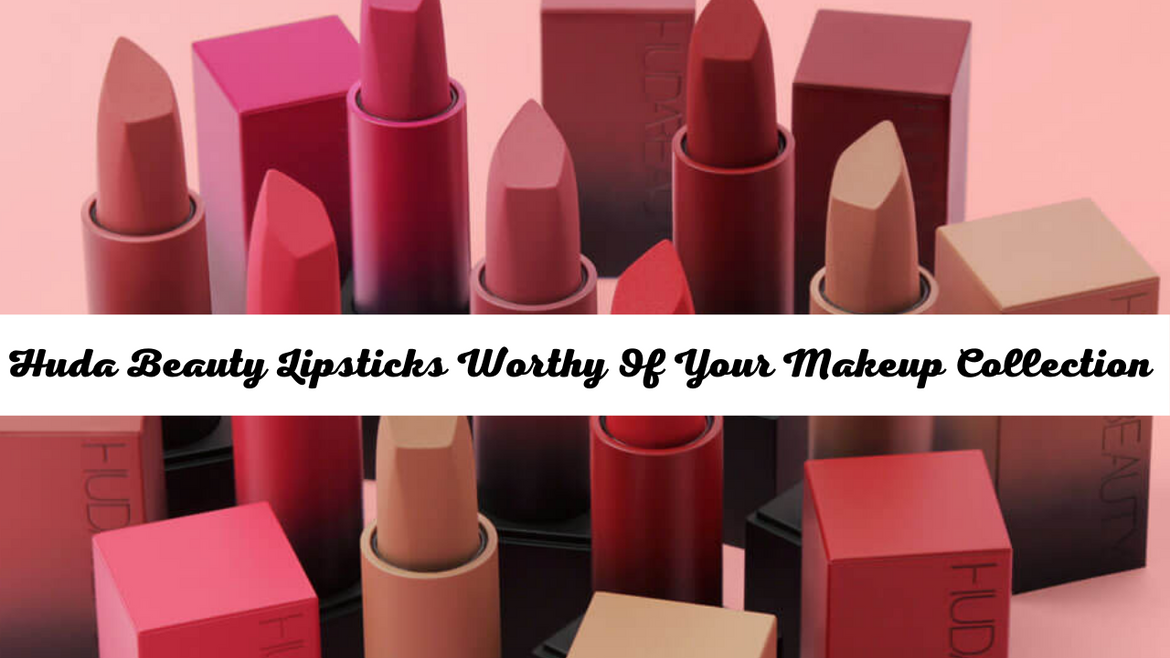 These Huda Beauty Lipsticks Are Worthy Of Your Makeup Collection
2022, Active Ingredients, Anti-ageing, Antioxidant, Beauty, Beauty Guru, blog, Bloggers, Body Drip, bronze, bronzer, Curling, Curls, Drunk Elephant, Dry shampoo, Eye Looks, Eyeliner, Eyeshadow, Fashion, Fermented Ingredients, glow, Glow Recipe, Hair, Haircare, Hairstyle, Heating Tools, Huda Beauty, Influencers, K-Beauty, Korean Beauty, Korean Skincare, Makeup Looks, Nail, Nail Color, Nail Polish, Nail Varnish, Palette, Serum, Serum Kit, Siren Eye, Skin, Skincare, The Ordinary, tigi, Trending, Vitamin A

02 Aug, 2021
xHuda beauty lipsticks are iconic and live up to their hype. If you have not yet tried out a lipstick from this makeup brand, you are missing out. From mattes to their lip strobes, we have put together a list of our favorite and some of the popular shades for each. So, are you ready to stock up?
Power Bullet
The Power Bullet lipsticks are the most popular ones from the entire lip range, and they are personally our favorite too. You would expect bullet lipsticks to be dry but these are not and that's why we love them so much. Power bullet lipsticks from Huda Beauty are highly pigmented and come in a silky-smooth, plush-matte formula.
Our Favorite Shades:
Wedding Day – a stunning caramelized pink (cool toned). This shade is perfect to wear on an everyday basis or even on a special event like your wedding.
Board Meeting - A spiced cinnamon mocha (warm tone) shade that can work from day to night.

                        WEDDING DAY                      BOARD MEETING
Liquid Matte Lipstick
The Huda Beauty liquid matte lipsticks lives their era of popularity to the prime. Back in 2017 and 2018, when liquid matte lipsticks were what everyone talked about, these ones were top picks for many makeup artists. These lipsticks give one-stroke color with a buttery, suede-like finish.
Our Favorite Shades:
Mamacita – if you want a fiery red that gets all the attention, this one is it.
Wild Child – a fun bright pink color that is amazing pick for summertime.

                  MAMCITA                                  WILD CHILD
Demi Matte Cream Lipstick
If you enjoy color payoff like a matte lipstick but want something with a bit of sheen to it, the Demi Matte Cream Lipsticks are the one to get. They hydrate the lips with a lacquer like sheen, offering a velvety satin finish.
Our Favorite Shades:
Day Slayer – a shiny nude shade lipstick; now that is something we all need in our makeup collection.
Lady Boss – a deep pink shade that makes you feel exactly like what the name suggests: a boss lady!

                      DAY SLAYER                                    LADY BOSS
Lip Strobe
The Huda Beauty lip strobes have a non-sticky, cushion like texture that gives you prismatic spectrum of sheer and full coverage color. You can apply them on their own or on top of other lipsticks.
Our Favorite Shades:
Posh – Perfect to layer with other lipsticks; the sheer wash of color will make sure you can easily pair it with other shades.
Boujee – If you are a boujee gal, this fun pink color is going to suit your personality really well.

                                             Posh                           Boujee
Add all these Huda beauty lipsticks to your makeup collection and be prepared to get obsessed!