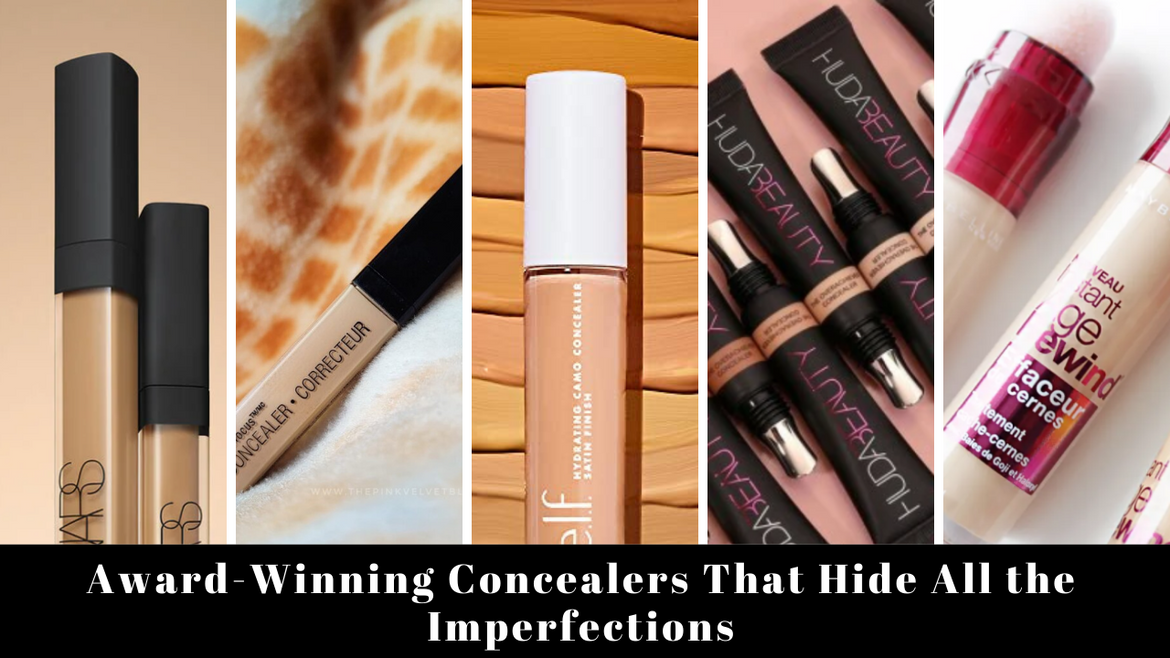 Award-Winning Concealers That Hide All the Imperfections
2022, Active Ingredients, Anti-ageing, Antioxidant, Beauty, Beauty Guru, blog, Bloggers, Body Drip, bronze, bronzer, Curling, Curls, Drunk Elephant, Dry shampoo, Eye Looks, Eyeliner, Eyeshadow, Fashion, Fermented Ingredients, glow, Glow Recipe, Hair, Haircare, Hairstyle, Heating Tools, Huda Beauty, Influencers, K-Beauty, Korean Beauty, Korean Skincare, Makeup Looks, Nail, Nail Color, Nail Polish, Nail Varnish, Palette, Serum, Serum Kit, Siren Eye, Skin, Skincare, The Ordinary, tigi, Trending, Vitamin A

07 Mar, 2022
It's time to camouflage without having a cakey and heavy appearance! With these award-winning concealers, hide all the imperfections while giving yourself a radiant appearance.
ELF Hydrating Camo Concealer
ELF Hydrating Camo Concealer is the one that is hydrating and great for winters and dry season!  With up to 25 shades covering all the skin tones be it fair, light, medium, tan, rich or deep ELF concealer has amped up its game! This liquid wear concealer provides a satin finish that is crease-proof and full coverage while hydrating your skin. It comes with sodium hyaluronate to lock in the moisture and rose flower water to soothe the skin.
NARS Radiant Creamy Concealer
This is the one that has been everyone's favorite for a long! NARS Radiant Creamy Concealer is the number one selling prestige concealer in the U.S. This concealer brightens, corrects, perfects, and is loved by all artists and non-artists alike, due to its luxurious texture and luminous finish. NARS Concealer delivers 16 hours of perfection and it has 30 shades available that cover all the skin tones. This multipurpose concealer can be used for highlighting as well as contouring.
Wet n Wild Photo Focus™ Concealer
Dark circles begone with Wet n Wild Photo Focus™ Concealer! Hide your blemishes, scars, and dark circles with this concealer that is not only reasonably priced but also a cult favorite! This concealer will always get you selfie-ready and instantly brighten your skin even if you haven't slept a wink. This concealer is cruelty-free, vegan-free, and paraben-free.
Maybelline Instant Age Rewind Concealer
 Your secret to flawless skin! This Maybelline Instant Age Rewind Concealer is Allure's Best of Beauty Award winner for 2018 and makes the under eyes radiant instantly. This age rewind concealer is infused with the benefits of goji berry that will give your eyes a refreshing look in no time. This concealer is considered a holy grail by everyone with its long-lasting performance.
Huda Beauty The Over-Achiever Concealer
Huda Beauty The Over-Achiever Concealer is great for eyes with delicate skin! This concealer is developed for tired eyes and long nights in mind with a formula that is great to disguise the appearance of dark circles, redness, hyperpigmentation, discoloration, and age spots. Infused with the goodness of green tea, Jericho Rose expects soothing and moisturizing properties.
With these must-haves, you can have a buildable concealer that is always there for you!