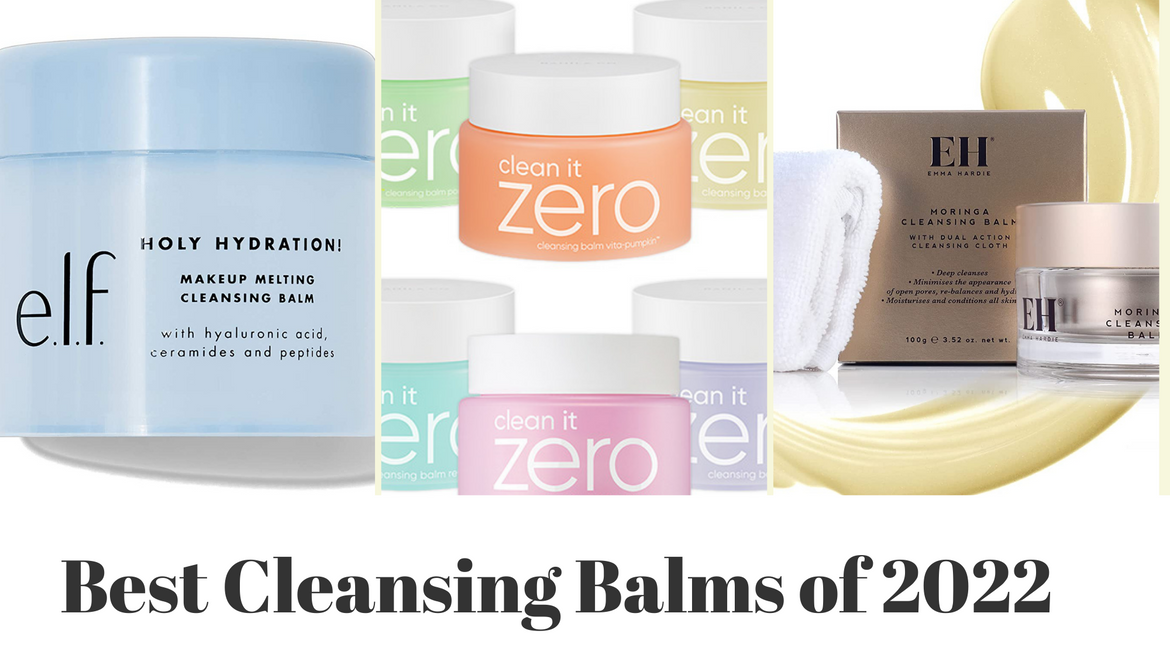 Best Makeup Cleansing Balms Of 2022
2022, Active Ingredients, Anti-ageing, Antioxidant, Beauty, Beauty Guru, blog, Bloggers, Body Drip, bronze, bronzer, Curling, Curls, Drunk Elephant, Dry shampoo, Eye Looks, Eyeliner, Eyeshadow, Fashion, Fermented Ingredients, glow, Glow Recipe, Hair, Haircare, Hairstyle, Heating Tools, Huda Beauty, Influencers, K-Beauty, Korean Beauty, Korean Skincare, Makeup Looks, Nail, Nail Color, Nail Polish, Nail Varnish, Palette, Serum, Serum Kit, Siren Eye, Skin, Skincare, The Ordinary, tigi, Trending, Vitamin A

13 Apr, 2022
No better feeling than taking your makeup off after a long eventful day! What's better than applying makeup is the bliss you feel while taking it off! No better feeling than taking off the makeup with a good cleansing balm which is gentle on the skin barrier. The days of resorting to makeup wipes for your makeup removal is long gone, now there are a multitude of options to choose from.
Cleansing balms offer a number of advantages over liquid, micellar, or bar cleansers, so you may want to try one in place of, or better yet, with, your regular cleansers. For starters, there's the change of season. The change in temperature makes it more difficult to keep your skin moisturized.
E.L.F. Holy Hydration! Makeup Melting Cleansing Balm
This is indeed one of the most cost friendly options from the lot! This drugstore find is a must have as it easily pulls the weight of a cleanser that's triple its price. This surprisingly silky balm is packed with hydration-attracting hyaluronic acid, barrier-boosting ceramides, and skin-plumping peptides, hence making sure that your skin is packed with moisture and not never stripped off its natural oils. Keep in mind- this works well with all skin types!

Banila Co. Clean It Zero Cleansing Balm
The Banila Co. Clean It Zero Cleansing Balm is a K-beauty staple of ours and so popular with skin-care devotees that it's offered in Clarifying, Nourishing, Original, Purifying, and Revitalizing versions to best conform to your skin-care needs. This three-in-one hybrid balm exfoliates, hydrates, and cleanses by removing makeup, dirt, and oil in one fell swoop. It also does a fantastic job maintaining the integrity of your skin barrier, thanks to a soothing blend of flower, root, and fruit extracts (like Barbados cherry, safflower, and much more).
It's also worth noting that you can pick up the Clean it Zero Skincare Starter Kit for a great price at www.brandsatdoor.com , which includes 4-step Skincare Starter Set that removes makeup, cleanses skin, balances skin, and moisturizes.
Emma Hardie Moringa Cleansing Balm
The Moringa Cleansing Balm seems to be one of the most hyped and highly reviewed ones as it gives off the impression that it is a product which has stood through the test of thime and is immensely being prominent in recommendations. This cleansing balm is beneficial in multiple ways! It penetrates deep within the skin and locks in moisture, it is ideal for skin redness and acne prone skin and reduces the appearance of open pores. The balm leaves skin looking dewy and plump, and is suitable for all skin types.