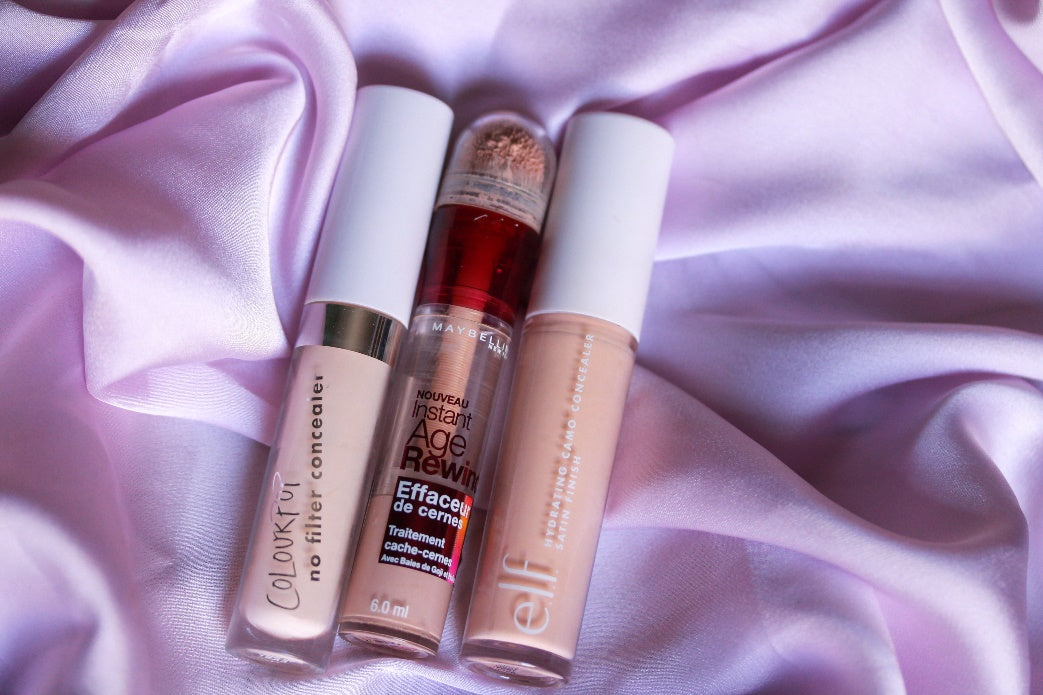 These Affordable Concealers Are Worthy of Being Your Holy Grail
2022, Active Ingredients, Anti-ageing, Antioxidant, Beauty, Beauty Guru, blog, Bloggers, Body Drip, bronze, bronzer, Curling, Curls, Drunk Elephant, Dry shampoo, Eye Looks, Eyeliner, Eyeshadow, Fashion, Fermented Ingredients, glow, Glow Recipe, Hair, Haircare, Hairstyle, Heating Tools, Huda Beauty, Influencers, K-Beauty, Korean Beauty, Korean Skincare, Makeup Looks, Nail, Nail Color, Nail Polish, Nail Varnish, Palette, Serum, Serum Kit, Siren Eye, Skin, Skincare, The Ordinary, tigi, Trending, Vitamin A

16 Jul, 2021
 Concealers; can't live without them! They do more than just hide dark circles; they help with sculpting, highlighting and sometimes even act as a primer on your eye lids. With being so multipurpose, it is important to invest in the right concealer so you can enjoy maximum benefits.
Lucky for you, there are plenty of affordable concealers in the market that give amazing results and are even considered as dupes for high-end favorites. So, are you ready to find some gems?
ELF Hydrating Camo Concealer
The ELF Hydrating Camo Concealer became a favorite of many beauty guru's soon after it's launch. This product was a new formula introduced by ELF, taking after their OG Camo concealer which had worn several beauty awards over the years. The number one selling factor for this concealer is that it provides full, creaseless coverage with a satin finish. Do you know what that means? You get to enjoy a boost of hydration while still enjoying the full coverage effect.
The formula is lightweight, easy to blend and lasts easily for about 8-10 hours without needing any touch-ups. The concealer comes with a large doe foot applicator which makes it super easy to apply the product. It's suitable for normal, combination and dry skin. If you have oily skin, I recommend you stick with the original version that offers matte finish. (Shade pictured: Light Ivory)
ColourPop No Filter Concealer
Not enough people know about this amazing concealer and that makes me sad. It's such an amazing, full coverage concealer and gives the perfect finish that lasts all day long. You've probably heard about the Tarte Shape Tape Concealer that is a holy grail of so many and guess what? The ColourPop No Filter Concealer is actually a dupe for that!
This affordable concealer offers a matte finish. The formula is lightweight and easy to blend, so you can enjoy a flawless finish. The applicator is small and quite flexible, which makes it super easy to precisely apply the product. (Shade pictured: Fair 08)
Maybelline Age Rewind Concealer
This concealer has been in the market for many years and was one of the very first concealers I ever used. I fell in love back then and still always repurchase it whenever I run out. It's such an affordable product and something I can fully trust without a second thought.
The Maybelline Age Rewind Concealer has a great formula that blends like a dream, doesn't crease and offers great coverage. It used to come in very limited shades but now has 18 shades to pick from! I also love that it has a built-in applicator which is super soft and great for applying product on the face. (Shade pictured: Fair/Clair)
Trust me, each of these affordable concealers are worthy of being your holy grail!