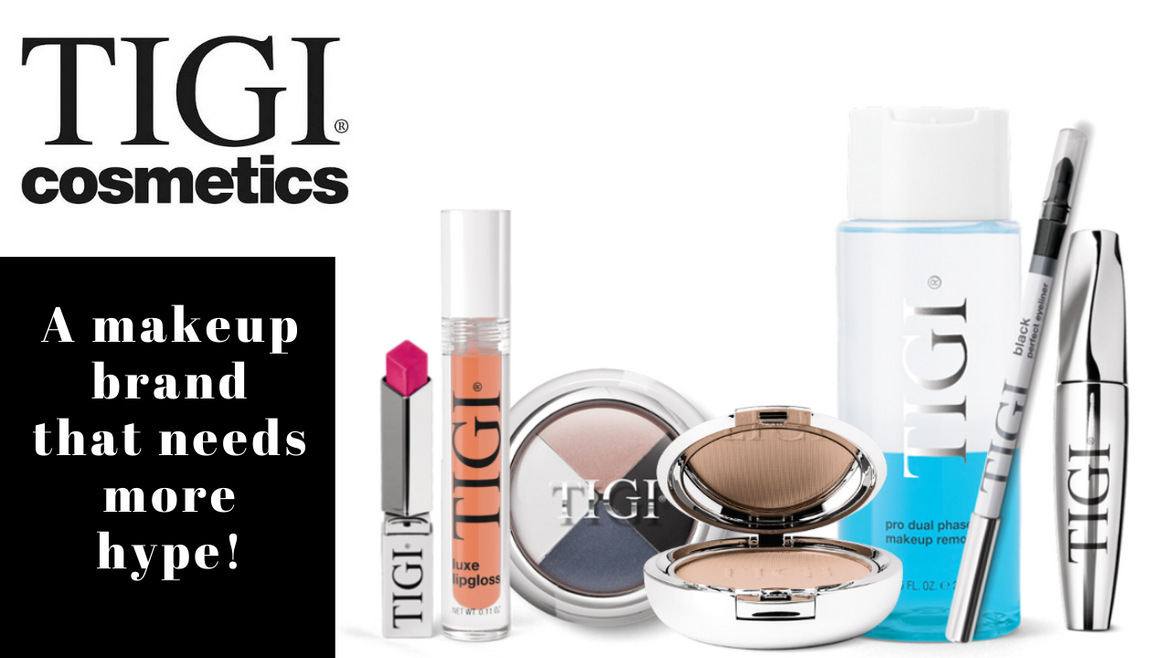 TIGI Cosmetics - A makeup brand that needs more hype!
2022, Active Ingredients, Anti-ageing, Antioxidant, Beauty, Beauty Guru, blog, Bloggers, Body Drip, bronze, bronzer, Curling, Curls, Drunk Elephant, Dry shampoo, Eye Looks, Eyeliner, Eyeshadow, Fashion, Fermented Ingredients, glow, Glow Recipe, Hair, Haircare, Hairstyle, Heating Tools, Huda Beauty, Influencers, K-Beauty, Korean Beauty, Korean Skincare, Makeup Looks, Nail, Nail Color, Nail Polish, Nail Varnish, Palette, Serum, Serum Kit, Siren Eye, Skin, Skincare, The Ordinary, tigi, Trending, Vitamin A

07 Mar, 2022
When it comes to the world of makeup many household names are in every makeup junkie's makeup stash and everyone knows about them, but as we know how saturated the market is, there are a few makeup brands that need recognition, one of them being TIGI Cosmetics!
About TIGI Cosmetics
TIGI Cosmetics was established in 1989 under the name TIGI Classic Cosmetics and ten years later revamped into Bed Head Make-Up. The main idea behind this full line of cosmetics was to inspire a new idea and challenge the department store's norms. TIGI Cosmetics has become the staple for stylists as well as salon goers and has won Behind the Chair's "Best Professional Make-Up Line" for seven consecutive years.
What is it about?
This brand is all about being multi-functional modern and sleek and has always strived for new and innovative ideas and formulas. TIGI Cosmetics has a vast range of crème foundations and concealer, powder foundations, tinted primers, glow blushes, and perfect eyeliners in various vibrant colors. Their concealer and foundations are in a wide range to cater to the need of every skin tone. 
Bestsellers of TIGI Cosmetics
 TIGI Cosmetics is famous for all its products but a few of the best-sellers are mentioned below:
Luxe Lip-gloss
 A lip gloss that is designed to leave your lips luscious and moisturized while leaving a high-shine look. Luxe Lip gloss comes in five gorgeous shades and comes with a lovely light cocoa scent that is not overbearing like other lip glosses in the market. This lip-gloss will be the perfect topper for that brilliant shine.
Tinted Primer
To achieve that flawless complexion. A tinted primer is much needed but nothing is better than having a buildable one. This primer is lightweight and blurs uneven tones and pores. The formula is oil-free making it perfect for all year round especially in summer season. You can wear this primer alone and build it or wear it under a foundation for a coverage look.
Brow Defining Pencil
 Your everyday essentials to achieve those sleek brows! This 2-in-1 easy application brow-defining pencil comes with antioxidants such as Vitamin C and E to keep your brows healthy. The tip comes with coconut extract and is sleek for easy application. This brow defining pencil is a must-have.
Transform your makeup and add some variety to your stash with TIGI Cosmetics that are underrated but work with absolute brilliance!