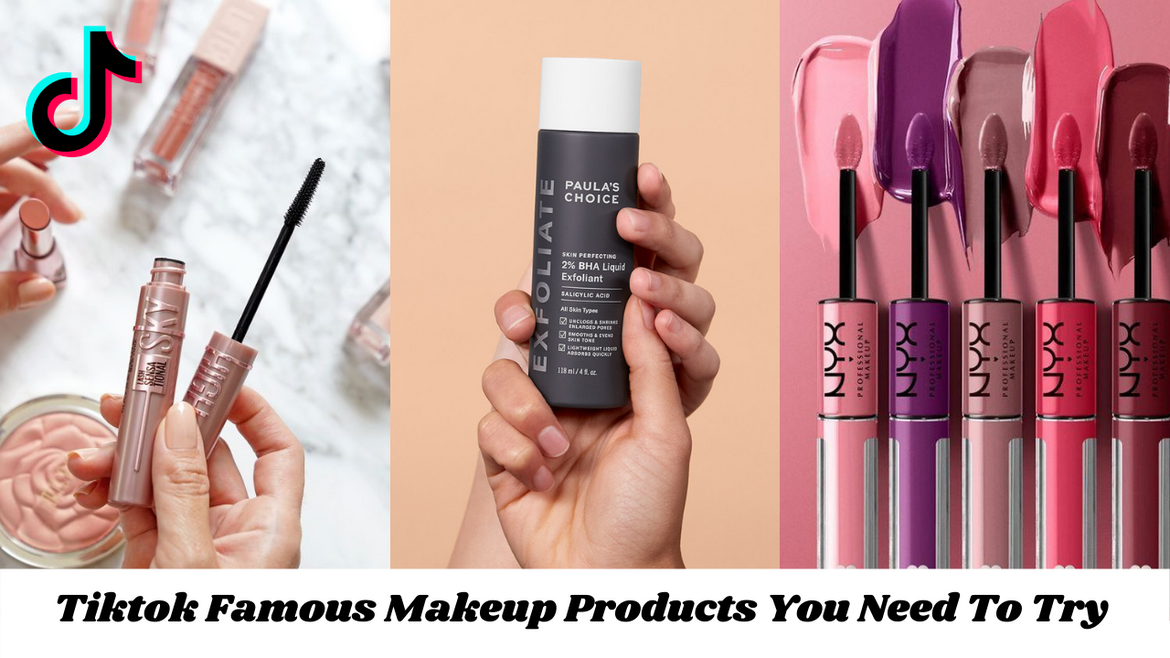 TikTok Famous Makeup Products You Need To Try ASAP
2022, Active Ingredients, Anti-ageing, Antioxidant, Beauty, Beauty Guru, blog, Bloggers, Body Drip, bronze, bronzer, Curling, Curls, Drunk Elephant, Dry shampoo, Eye Looks, Eyeliner, Eyeshadow, Fashion, Fermented Ingredients, glow, Glow Recipe, Hair, Haircare, Hairstyle, Heating Tools, Huda Beauty, Influencers, K-Beauty, Korean Beauty, Korean Skincare, Makeup Looks, Nail, Nail Color, Nail Polish, Nail Varnish, Palette, Serum, Serum Kit, Siren Eye, Skin, Skincare, The Ordinary, tigi, Trending, Vitamin A

02 Aug, 2021
TikTok has been known to set some trends and if there is any product that goes viral on TikTok, you bet it's going to be sold out everywhere. Over the last few months, there have been a handful of products that went viral on TikTok and are actually promising when it comes to delivering results. We've done our research and rounded up our top favorite:
Cerave Salicylic Acid Cleanser
This salicylic acid cleanser helps to exfoliate your skin and is great for daily use. It also sweeps away dead cells, smooths out your skin and also removes oil and dirt. And you know what the best part is? It doesn't leave your skin feeling dry!
L'oréal Paris Makeup Infallible 24hr Fresh Wear Liquid Longwear Foundation
This foundation has been around for an year or two but ever since it got picked up by TikTok, it got super famous and how everyone wants it! The formula of this foundation is just amazing; it has a thin consistency that blends into the skin beautifully and gives that flawless, radiant coverage that lasts for a really long time.
ELF Cosmetics Poreless Putty Primer
If you are someone who struggles with pores, this primer is going to be a life saver! It comes in this putty type consistency that is lightweight and instantly melts into the skin as you rub it in. It doesn't make your skin feel heavy or greasy, so make sure to pick up the makeup product right away.
NYX Shine Loud Pro Pigment Lip Shine
This product has made it's place in the makeup industry through TikTok and has proven to be absolutely amazing. You get 2 products for the price of one; first you apply the high-pigment base coat and let it set for about 30 seconds. Add the reflective and non-stick topcoat next and your lipstick will not budge at all for up to 16 hours.
Our personal favorite shades are CASH FLOW and REBEL IN RED.
Maybelline New York Lash Sensational Sky High Mascara
Think big, voluminous lashes and then grab The Maybelline Lash Sensational Mascara! It not only helps with lengthening them, but also makes them look fuller. The formula lasts for a really long time too, so get ready to fall in love.
Too Faced Lip Injection Extreme Lip Plumper
Want your lips to look plump and juicy? Then you need to try out this TikTok famous makeup product yourself. The glossy tinted formula naturally hydrates the lips and gives instant plumping results. Wear this gloss on its own or on top of your favorite lip liner or lipstick; the results are going to be incredible.
Paula's Choice 2% Bha Liquid Exfoliant
2021 has been the year for skincare and the Paula's Choice 2% BHA Liquid Exfoliant is worthy of an investment. It's a gentle leave-on exfoliant that quickly unclogs pores, smooths wrinkles and fine lines, and brightens up your skin tone. You can use twice daily after cleaning and toning the skin.
All these makeup products have become a part of our routine and we would recommend you do the same!