Top Exfoliators for Glowing, Velvety Soft Skin!
2022, Active Ingredients, Anti-ageing, Antioxidant, Beauty, Beauty Guru, blog, Bloggers, Body Drip, bronze, bronzer, Curling, Curls, Drunk Elephant, Dry shampoo, Eye Looks, Eyeliner, Eyeshadow, Fashion, Fermented Ingredients, glow, Glow Recipe, Hair, Haircare, Hairstyle, Heating Tools, Huda Beauty, Influencers, K-Beauty, Korean Beauty, Korean Skincare, Makeup Looks, Nail, Nail Color, Nail Polish, Nail Varnish, Palette, Serum, Serum Kit, Siren Eye, Skin, Skincare, The Ordinary, tigi, Trending, Vitamin A

30 Oct, 2022
Once we delve into the topic of establishing a skincare routine the next big step after incorporating SPF and moisturizers, comes the exfoliants!
 To start it off, let's get into the basics; There are two different types of exfoliators: physical and chemical. Physical exfoliators are formulated with a scrub or bead that works to physically remove dead skin cells by washing or scrubbing them off manually. Chemical exfoliators are formulated with acids, such as alpha-hydroxy acids, beta-hydroxy acids, and polyhydroxy acids, that work to liquify dead skin cells.
OleHenriksen PHAT Glow Facial Mask
Best pick for sensitive skin! Most people recommend Ole Henriksen's PHAT Glow Facial because it's formulated with PHAs and complimentary ingredients. Another important thing to keep in mind is that PHAs like gluconolactone, lactobionic, and maltobionic are best for this skin type since they are the gentlest of all. All over social media people love its brightening effect and how it clears up acne scarring and fine lines.
CeraVe Salicylic Acid Cleanser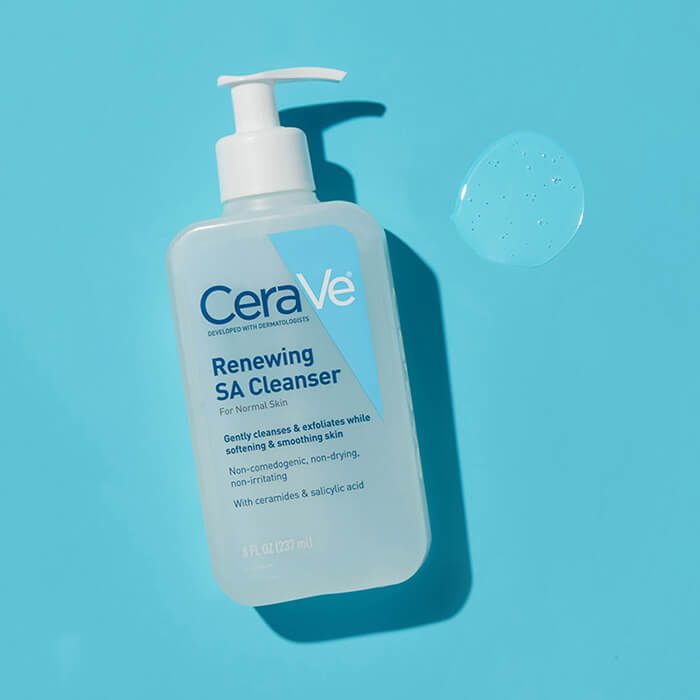 What does salicylic acid remind one of? Well more often than not it's usually linked to pimple-prone skin! Its also the face acid suggested most for acne-prone skin, because of its capability to really take out dirt and impurities from clogged pores. Another bonus is that it can sweep away dead skin cells, too. This cleanser contains salicylic acid as well as ceramides, so it'll keep your skin moist and make it smoother in the process. It's fragrance-free and has close to 3,000 five-star Amazon reviews. It can be used on the body or the face
Paula's Choice Skin Perfecting 2% BHA Liquid Salicylic Acid Exfoliant
A favorite of many, especially those with oily and acne-prone skin. The best part about this exfoliator is that it is lightweight and absorbs fairly quickly. This amazing product was formulated and created by Paula Begoun of Paula's Choice. This liquid exfoliant is a blend of beta-hydroxy acids (a category of acids known for cleaning out pores-by the most efficient means its possible, it keeps skin clear and bright. Salicylic acid- BHA, is an ideal ingredient for this skin type as it has great anti-inflammatory properties!
You can buy these items right off our website at  www.brandsatdoor.com